Yep, right on both. Kinda ironic that on his last at bat not only did he even his home and road hit count, but he hit it just to the left of rookie second baseman Pete Rose.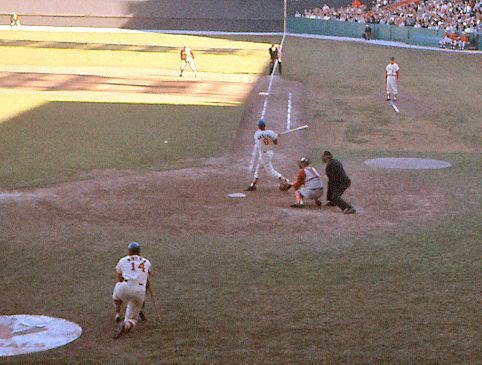 I can remember listening to the game on my little transistor radio and Harry Caray broadcasting it out of KMOX in St. Louis. Here's his play by play of Stan's last at bat:

"Take a look fans, take a good long look; remember his swing and the stance ... we won't see his like again. This might be the last time at bat in the major leagues. The pitch to Musial—a hot shot on the ground into right field—a base hit—here's Flood around third—here's the---no throw—the Cardinals lead—1-0!!! Listen to the crowd!!! Listen to the crowd!!!"

Stan took his final at-bat in the 6th inning and then exited the game for a pinch runner. It was his second hit of the game, he also singled in the fourth inning.
_________________________