Roger Staubach was my boyhood hero. He represented everything, not only a football player should be, but a human being should be.

Roger Staubach won the Heisman Trophy in 1963 after his junior year at the US Naval Academy.
During his three varsity seasons at Navy, Staubach
completed 63% of his 463 pass attempts, an unheard of Percentage at that time.

Following the completion of a mandatory five-year military commitment, including a tour of duty in Vietnam, Roger did not join the Cowboys until he was 27. But he made the most of the next decade.

He won 16 of his first 17 starts, and over the course of his nine years as the Cowboys starter won an amazing 73% of their games.

In the play that defined the still-popular term for a last-minute miracle pass, Staubach's 50 yard "Hail Mary" Touchdown throw to Drew Pearson in the final seconds of the 1975 NFC Divisional Playoff game, stunned the Minnesota Vikings and gave Dallas a 17-14 vicory.

Four times he led the NFL in passing(1971,'73, '78 and '79)and Was a six time Pro Bowl choice.

Roger Staubach was the consummate gentleman. Over the course of his 11-year career Roger Staubach came to symbolize the excellence of the 1970's Cowboys, leading them to Five NFC Titles, Four Super Bowl apperances and Two Championships.

Roger Staubach possessed a rare combination of Passing, Running and Leadership Skills that led the Cowboys to wins in close games, Including 23 come from behind victories and an unbelievable .737 winning percentage!

He did it again in his final home game against division-rival washington Redskins on 12/16/79, Staubach led Dallas from a 34-21 fourth-quarter deficit to a thrilling 35-34 win. Staubach conected with Tony Hill for the game-winning TD pass with seconds remaining on the clock.

Roger Staubach retired as the NFL's All-Time Passing leader with an 83.4 passer rating and he did it all in the "dead ball" era without the benefit of today's modern passing rules that allow even the NFL's worst QB's to throw for 300 yards and a few TD's virtually every game.

Elected to the Pro Football Hall of Fame in 1985, his 1st year of eligibility

Roger Staubach is regarded by many as the man that sparked a Cowboy dynasty that saw the team reel off 20 consecutive winning seasons.

He is without question the greatest quarterback Ive ever seen play.

Board Member Jim(Tex) and I have been going back and forth with our Roger Staubach cards. We were both surprised and unaware that there were so many newer cards release. Of course we had to have them as we both agreed that there is no such thing as a "bad" Roger Staubach card.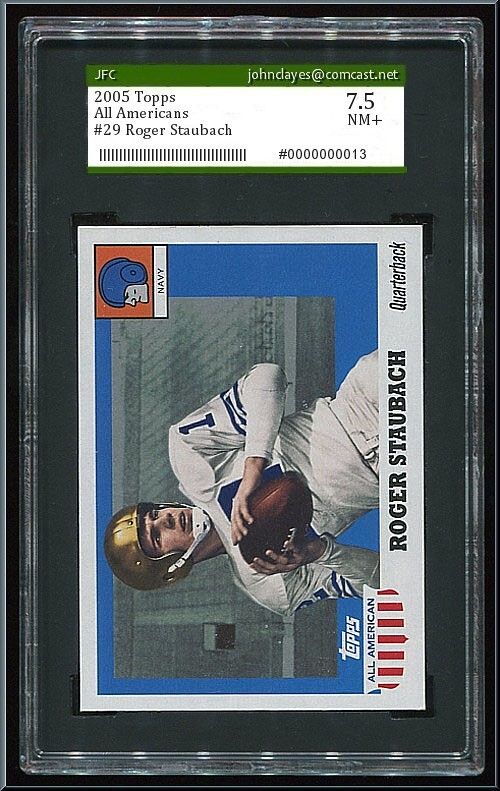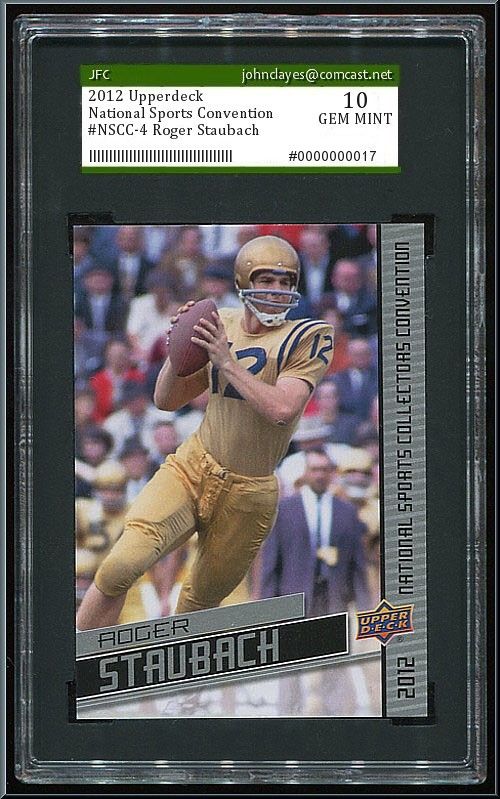 Edited by BigRedOne (

11/03/12

02:44 PM

)
_________________________