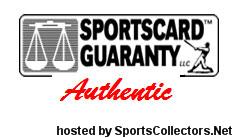 SGC AUTHENTIC MARCH SPECIAL

March 1 - March 31st

Pricing for this message board only special is:

$8 per card for each basic signature - which includes authentication and encapsulation

*Tall Boy Holders $10 (for authentication/encapsulation for basic signature)
*Customs are $5 extra / Oversized $15
*Premiums such as Mantle, Williams, DiMaggio, etc. start at $45
*Multi-Signed Items will be priced $8 + $6 per additional

ITEMS ACCEPTED FOR THIS SUBMISSION SPECIAL

*Standard sports and non sports cards
*3x5 Index Cards
*4x6 Index Cards (Oversized Holder)
*Cuts / mounted cuts
*Postcards
*Signed Photos (up to 7x9)

**Turnaround time is 20 business days, however as most know who participated in the last SGC submission...turnaround times averaged around 10 business days.

***Any items determined INCONCLUSIVE will receive a credit back per item

Please PM me with your lists so that I may review them for pricing and to alleviate any problems with the order once it is submitted. If you have any questions, please feel free to post here or send a PM or call me at my office 800-742-9212 Mon-Fri.

I'm looking forward to working with everyone again!

Earl


Edited by SGC (

02/13/13

01:50 PM

)
Edit Reason: Edited title

_________________________
BROOKS ROBINSON ~ One of the Greatest to Ever Play the Game!