I do not know if anyone will read this because the forum is so dominated by 1950's baseball cards. That's ok, because I love the 50's stuff too.


I wanted to share a new card, a funny story and some info about an obscure set that might be new to most of you. This Ty Cobb Bat Off card came in today's mail to go along with my Ty Cobb Red Portrait.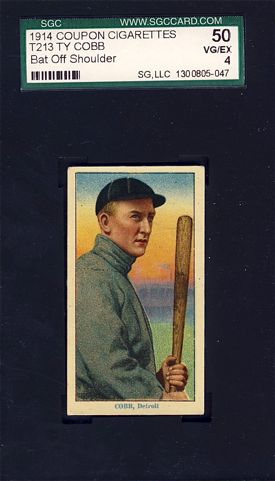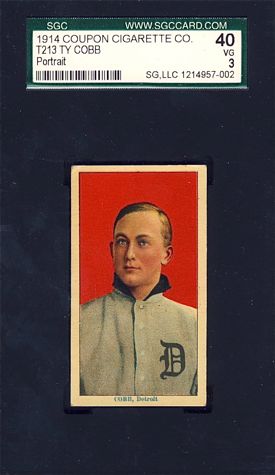 Here is what a back looks like.




Both cards are from the T213 (Type 2) Coupon Cigarettes cards that were issued in 1914.

Borrowing the same images as T206, the T213 (Type 2) Coupon set was issued exclusively in the Louisiana area. They are most always kept from higher grades due to light creases(cracks) which are a result of the cards being manufactured with a lacquer coating to the front. The Louisiana climate did not help the preservation of the cards either. Plus, who knows how many cards may have been lost during Hurricane Katrina.

To date, there has been only one SGC 88 graded in the entire set, and less than ten graded SGC 70 or better. So, this is definitely a set where nice eye appeal trumps the technical grade.

The funny story is that I opened the package and immediately scanned the card. I don't procrastinate when it comes to cards. On my way to the box I use to carry my best cards to the bank, my hand hit the edge of my desk and the Cobb went flying across the hardwood floor, sliding under a huge wall unit.


There is no way I am laying on the hard floor to get it. I would never get up. Besides, what are wives for?
Edited by rgold (

05/23/13

02:21 PM

)